The Bachelor programme at ARCHIP is a three-year undergraduate professional degree programme. We place emphasis on conceptual thinking, on the passionate discovery of new questions, on the rigorous path towards design excellence, on well-rounded intellectual development, and on cultivating each student for a breadth of career choices.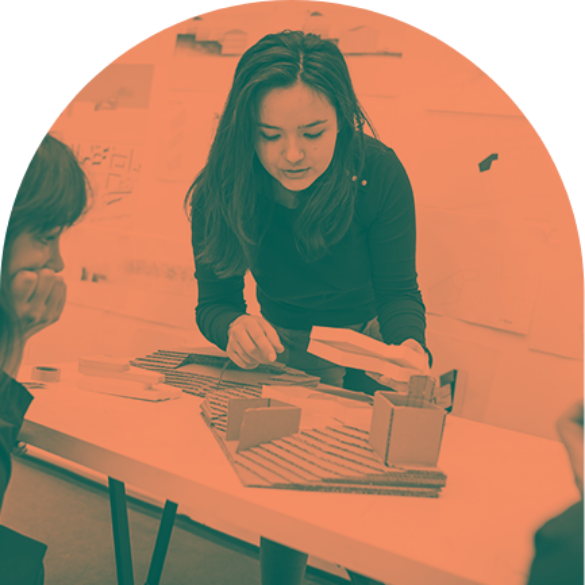 The curriculum and the design studios build cumulatively over the three years in order to establish a broad and deep base of knowledge in architecture and urban design with regards to the latest developments in sciences, arts and modern technology.
Our goal is to produce a universally educated graduate who has mastered the fundamentals of the architectural profession and is excellently equipped for continuing as a graduate student, or is ready to apply his or her undergraduate knowledge in a number of careers related to the field. We teach architecture as a discipline concerned with social and environmental good, sustainability and ethical responsibility. Students learn how the relationship between civilisation and architecture developed throughout history. In this respect, Prague offers a unique opportunity to explore the architectural heritage of the city and the region. We often organise field trips, and thanks to ARCHIP's partnerships with other schools of architecture, students benefit from a wide choice of international exchanges and activities. The programme is built around the course in Architectural Design where students systematically apply their knowledge gained in other courses (History and Theory field, Construction and Technology field, Art and Presentation and others). We place a strong emphasis on presentation and professional communication skills. Guided by renowned faculty, students learn amidst a diverse international community and in a family-like atmosphere where they can explore and develop their unique creative talents and consider their next career path – they have many to choose from!
Your suitability for the Bachelor programme at ARCHIP will be tested in an admissions review for which you are kindly asked to submit the following:
Apply Bachelor programme here:
By submitting this form you agree with the processing of your personal information according to the Act No. 101/2000 Coll. by the provider Archip.
ARCHIP undertakes to treat your personal information as private and confidential, and to store it in accordance with the EU Regulation 2016/679 known as GDPR (see our statement in Czech and in English) and by the applicable laws of the Czech Republic, in particular the Act No. 101/2000 Coll., on the protection of personal information, amending certain other laws, as amended. 
ARCHIP Admissions Committee will evaluate applications against several criteria (content and style, originality and artistic distinction, formal presentation of the portfolio).
The fees will cover course instruction and basic study content for lectures and seminars. Material for studio work will be excluded. Prices are as follows for the Bachelor programme (six semesters) at ARCHIP:
per semester for EU, EFTA* and UK nationals
per semester for students from the rest of the world
The school also offers some services – like printing – on a commercial basis. 
Early bird discount of 5% applies.** 
* EFTA members include Norway, Iceland, Switzerland and Liechtenstein.
 ** New students qualify as early birds if they pay before May 31(for the upcoming academic year). Current students should refer to IS for information on early bird discounts.
ARCHIP scholarships are awarded to those who perform above-average in terms of academia and successfully complete all enrolled courses. Other criteria evaluated by the scholarship committee include diligence in study, attendance, extra-curricular activities in and out of school, other interests and an overall attitude. Bachelor and Master students may be eligible for the scholarship after their 1st year of study at ARCHIP.
If you are a foreign national and applying to study with us in the Czech Republic, you must contact the Czech embassy in your home country to obtain up-to-date information on the visa requirements for study purposes. Thanks to their EU membership, citizens of the European Union, citizens of the EEA countries (Iceland, Liechtenstein and Norway), and citizens of Switzerland, do not require visa for any type of visit or stay in the Czech Republic.
For more information please visit the website of the Ministry of Foreign Affairs of Czech Republic on this web address.
Please direct your admissions enquiries: admissions@archip.eu
Important dates for academic year 2021/2022
SEP 28, 2021
OCT 28, 2021
NOV 17, 2021
DEC 20, 2021 – JAN 2, 2022
SUMMER EXAM PERIOD (4WEEKS)
WINTER EXAM PERIOD ( 4WEEKS)
DEC 20, 2021 – JAN 2, 2022