The Master programme at ARCHIP is a two-year graduate professional degree programme. While independent from the Bachelor programme, within the interdisciplinary studio environment, they are linked. We place emphasis on an intense integration of each semester, incorporating all aspects of architectural practice, through design, history, theory and research, as an in-depth understanding of the field, with a focus on practical and project-based work.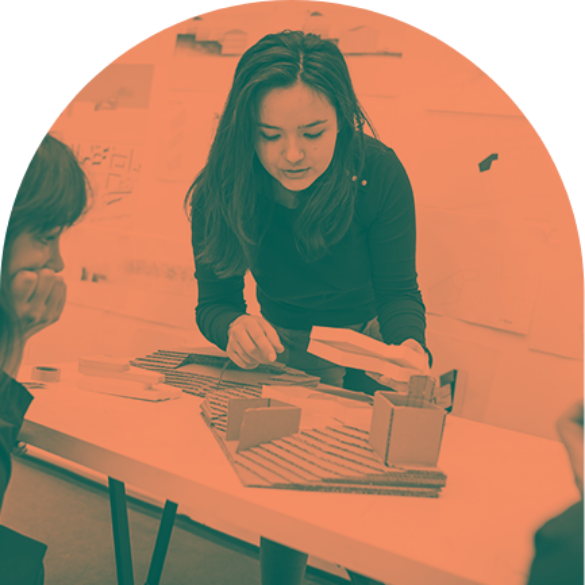 The graduate programme aims to develop well-rounded professionals in the field of architecture who are best positioned to go on to apply and further expand their talents in a range of professional workplaces.
Upcoming deadlines (EU citizens)
All courses included in the Architecture and Urbanism Master programme are compulsory. As much as half of all study hours take the form of one-on-one consultations with the tutor. Thanks to the small number of graduate students in one year (max. 30), our students benefit from an intensive and highly personalised contact with our faculty members. The credit system and the classification scale is based on the European Credit Transfer System (ECTS), which allows for student mobility.
Architectural Design is the cornerstone of our graduate programme enabling the students to work closely with their tutors, who are themselves practising architects, on a specific project which incorporates various aspects of architectural practice. Urban Design teaches students the broad theoretical principles of development/life/design of a complex urban system. Further, our graduate students also receive training in methods of communication with both private and public investors, consultants and stakeholders, since an architect must be able to engage in a professional dialogue and make collective decisions with fellow architects, professionals from other fields and with the public.
Your suitability for the Master programme at ARCHIP will be tested in an admissions review for which you are kindly asked to submit the following:
Apply to the Master programme here:
By submitting this form you agree with the processing of your personal information according to the Act No. 101/2000 Coll. by the provider Archip.
ARCHIP undertakes to treat your personal information private and confidential, and to store it in accordance with the EU Regulation 2016/679 known as GDPR (see our statement in Czech and in English) and by the applicable laws of the Czech Republic, in particular the Act No. 101/2000 Coll., on the protection of personal information, amending certain other laws, as amended. 
ARCHIP Admissions Committee will evaluate applications against several criteria (content and style, originality and artistic distinction, formal presentation of the portfolio).
The fees will cover course instruction and basic study content for lectures and seminars. Material for studio work will be excluded. Prices are as followsfor the Master programme (4 semesters) at ARCHIP:
per semester for EU, EFTA** and UK nationals
per semester for students from the rest of the world
The school also offers some services – like printing – on a commercial basis.
* EFTA members include Norway, Iceland, Switzerland and Liechtenstein.
ARCHIP scholarships are awarded to those who perform above-average in terms of academia and successfully complete all enrolled courses. Other criteria evaluated by the scholarship committee include diligence in study, attendance, extra-curricular activities in and out of school, other interests and an overall attitude. Bachelor and Master students may be eligible for the scholarship after their 1st year of study at ARCHIP.
If you are a foreign national and applying to study with us in the Czech Republic, you must contact the Czech embassy in your home country to obtain up-to-date information on the visa requirements for study purposes. Thanks to their EU membership, citizens of the European Union, citizens of the EEA countries (Iceland, Liechtenstein and Norway), and citizens of Switzerland, do not require visa for any type of visit or stay in the Czech Republic.
For more information please visit the website of the Ministry of Foreign Affairs of Czech Republic on this web address.
Please direct your admissions enquiries: admissions@archip.eu
Important dates for academic year 2023/2024
SEP 28, 2023
NOV 17, 2023
May 1, 2023
May 8, 2023
DEC 23, 2023 – JAN 1, 2024
SUMMER EXAM PERIOD (4WEEKS)
WINTER EXAM PERIOD ( 4WEEKS)
DEC 18 – 21 2023,JAN 2 – 26 2024