See some of the most beautiful sceneries of Prague!
… also is fun. And the cheap beer is only a small part of the attraction.
Prague – the fifth most visited city in Europe, a historical fairytale town, a cosmopolitan bridge between the East and the West, the capital of the Czech Republic and most of all, our home – is one of the greatest places in the world to live. Situated in the geographical heart of Europe, Prague has one of the largest and most dynamic expat populations in Europe thanks to the city's affordability and accessibility. It is also one of Europe's safest and greenest metropoles and has a great, cheap and dense public transport network, ranked 5th in the world.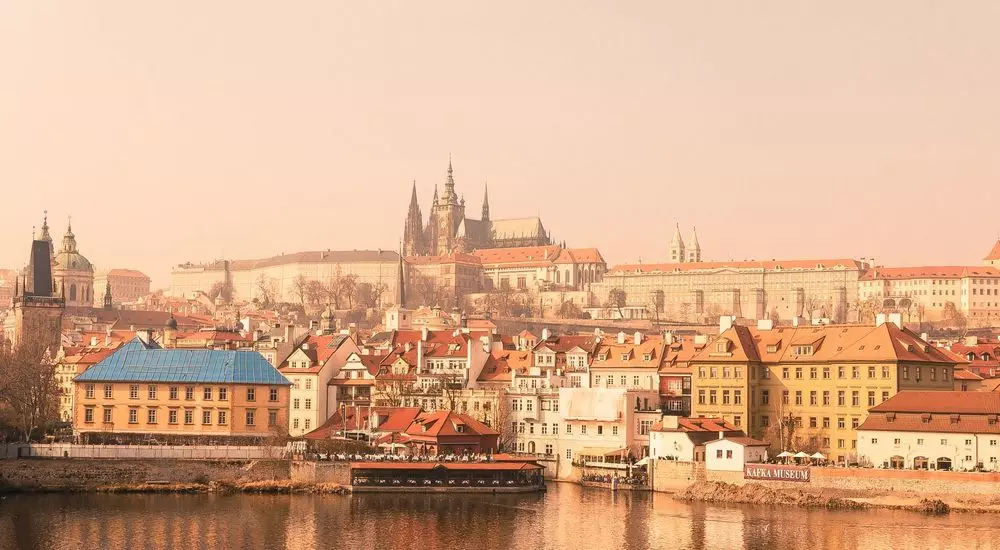 Situated on the hills along the meanders of Vltava River, Prague is anything but grey and boring. The city boasts history that spans over 1000 years and an extensive variety of architectural styles which provide the perfect background for the study thereof. Apart from medieval streets and ornate palaces of the historical centre, Prague also features a number of beautiful and lush residential quarters from the beginning of the 20th century as well as up-and-coming industrial neighborhoods appealing to the younger population. Prague is lively, yet not rushed, welcoming, yet not too loud. Prague's food and coffee scene is bourgeoning and its nightlife is legendary – Czechs are proud to be the biggest beer drinkers in the world. What is more, there are dozens of museums, galleries, theatres and concert venues offering a world-class cultural programme from smaller music gigs to ballet performances to various art exhibitions. Thanks to the welcoming locals (that Praguers really are) and a good standard and affordability of housing and education, you will feel at home before you even learn to say dobrý den!
Below, you will find very basic practical information about travel and living essentials in Prague (in alphabetical order). If you have more questions, you may try scrolling down (there are sections about Accommodation, Insurance, Health care, Transportation and more), see our FAQs or contact info@archip.eu for more information. Expat groups and Facebook groups may also be a great help.
ALCOHOL. Czechs are heavy beer drinkers (we are first in beer consumption in the world) but enjoy wine and sometimes spirits as well. Alcohol of all kinds is, however, banned in public spaces in Prague's city centre and also in all public greenery and public transport stops and stations throughout the city. The fines for alcohol in public may be high so pay attention to that. The classic brownbagging trick does not work we tried. 
BIKES. Prague is unfortunately not very suitable for bikers. However, there are neighborhoods which are an exception to this rule such as Holešovice or the riverside to the south (along the Vyšehrad hill where ARCHIP resides). There is also a great bikesharing app, Rekola, which is fun and easy to use. When biking, do make sure to pay extra attention as Prague drivers are not always used to bikers. On the other hand, the Czech countryside is swarmed with people on bikes if the weather is good enough. So if you are an enthusiastic biker, you will definitely enjoy quick cycling getaways.
CURRENCY. Our currency is the Czech Crown (koruna česká, Kč). The exchange rate is about 25–27 crowns per Euro – see exchange.cz for the latest rates. Prague has a good network of ATMs as well as currency exchange places (we recommend using bank ATMs outside the touristy areas). Do not forget to be cautious about the rate and exchange fees when exchanging money! We use 1, 2, 5, 10, 20 and 50 Kč coins and 100, 200, 500, 1000, 2000 and rarely 5000 Kč banknotes (see below). Never exchange money on the street, it is illegal and you will probably get scammed.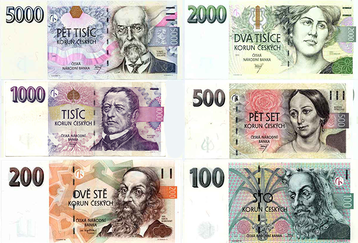 EMERGENCY NUMBERS. You can use the following emergency numbers free of charge. They are operated 24/7 and always have an English-speaking personnel. Dial 112 (EU emergency line) for any emergency situation. You can also call the fire brigade (150), the ambulance (155), the municipal police for minor emergencies (156) or the state police (158). 
LANGUAGE. It is common that people speak English (sometimes German, French or Russian) in Prague – however do not be surprised if someone does not, and be prepared to use your arms and legs to communicate. Czechs speak Czech which is a language of western slavic origin. It is very hard to learn, the only language with the letter Ř and a language with only about 15–20M speakers worldwide. We understand Slovak and sometimes Polish and Serbian or Croatian, but nobody apart from Slovaks understands us. Try learning some basic phrases and words, your local grocery lady will appreciate it! A to se vyplatí.
LGBTQ+. Prague and Praguers are very LGBTQ+ friendly. Apart from hosting Prague Pride every August and the Mezipatra Queer Film Festival every November, there are many friendly LGBTQ+ bars along the streets of Prague.
NAVIGATING THROUGH PRAGUE. With a population of 1.5M, Prague is the largest city in the Czech Republic which means that it is quite big. To get the gist of what Prague looks like on a map, see the image below. To learn more about transportation in Prague, scroll down.
OPENING HOURS. The stores in Prague usually have long opening hours (8 pm, local cornershops even 10 pm to 12 am) and are open on Sundays. You can also find 24/7 pharmacies, supermarkets or fast food restaurants.
PEOPLE WITH DISABILITIES. Prague's public transport can be a lot of unnecessary fuss for people with disabilities. However, the overall situation is quite decent as most of the private sector, including ARCHIP, has facilities which allow access to people with disabilities.
PHONE APPS. Most of the widely used European apps that make your life easier work in Prague as well (e.g. Uber, Waze, Revolut, Wolt and more). There is also a number of good Czech apps that will help you in your day-to-day life. We wrote an article about them on our blog which you can check out here.
PHONE SERVICE. Prague is covered by three phone service operators, O2, T-Mobile and Vodafone. If you have an EU number, you should be able to use your phone as if you were in your home country. To students outside of the EU, we recommend getting a Czech number (+420). Phone plans are unfortunately quite expensive in the Czech Republic (EUR 20–30 per month) and do not generally offer too much data.
QUIET HOURS. Quiet hours in Prague start at 10pm and end at 6am. During these hours, one should refrain from disturbing their neighbors or other residents with excessive noise (yelling, music). It is pretty common for people to call the police if quiet hours are not being adhered to.
SAFETY. Prague is one of the safest European cities. There are no explicitly dangerous neighborhoods or any violent crime. However, that does not mean you should not pay attention to your belongings in crowded places (yes, pickpocketing tends to happen here) or take leisurely strolls through dark alleys in the middle of the night.
SMOKING. Smoking is illegal in pubs, bars and restaurants and also at public transport stops and stations. Despite that, there are still a lot of Czechs who smoke — with the prices of cigarettes being quite low (around EUR 4 a pack). Czech Republic is also known for mild marijuana laws – while it is nothing uncommon for Czech students to smoke a spliff every now and then, note that smoking marijuana in public or the possession of marijuana or other drugs is not legal at all and you may get a large fine for that.
STUDENT DISCOUNTS AND BENEFITS. Various cultural events and exhibitions as well as shops and the public transportation system offer student discounts. For public transport, you will only need a confirmation of study in Czech. For most of the other benefits, you might need a student card such as ISIC which is the most widely used student card in the Czech Republic and the majority of Europe. For more information on how to obtain it, see the official ISIC website.
TIME ZONE. Czech Republic is, with most of continental Europe, in a UTC+1 timezone (CET). We observe daylight savings time from the end of March until the end of October when the time zone changes to UTC+2 (CEST).
TOURIST TRAPS AND SCAMMERS. Even though the 1990s are long gone, you can still find some scammers and conmen in the streets of Prague targeting tourists and foreigners. Pay attention to shady taxi drivers (use apps or order through dispatch) and dodgy currency exchange places. For more tips, tricks and stories, we recommend the Prague vs. Crooks series by Honest Prague Guide on YouTube.
UNITS OF MEASUREMENT. We use the standard European metric system and the Celsius scale for temperature.
VEGETARIANS AND VEGANS. Prague is very vegan / vegetarian / raw / gluten-free friendly.
WEATHER. Prague's weather is mild. We have fresh springs (mid-March to May, tempreatures vary from 10 to 25°C and we get a lot of rain in April), warm summers (June to mid-September, 25 to 35°C, sometimes rainy in June, storms in August), rainy falls (mid-September to November, temperatures in October vary a lot lately but Novembers are definitely chilly and rainy), and chilly winters (December to mid-March, -5 to 10°C, snow is rare and has not lasted long in the past few years).
ARCHIP does not have its own dormitories. Our students are thus left with a number of options which are listed below. The prices of housing in Prague are generally not as high as in Western Europe, nonetheless they are steadily rising and we would recommend our new students to start searching for accommodation as soon as possible since the good or budget-friendly offers are gone early.

OPTION 1: DORMS OF OTHER UNIVERSITIES.
Approximate price: EUR 250–300 / month.
Our students may apply for a place in a dormitory of another university. The standard of living may vary and it is common that dorms are situated on the city outskirts or that two students share a room. Some of the dorms may, however, have an option of a single room and are sometimes located in beautiful historical buildings in the centre or the broader center. If applying, do note that some of the dormitories give priority to their own students.

We recommend the Academy of Arts dormitory in the hip quarter of Letná (some 30 mins from the school). Other options include CTU dormitories or Charles University dorms.

OPTION 2: PRIVATE STUDENT HOUSING.
Approximate price: EUR 400–600 / month.
A number of modern student housing places opened up recently which usually target foreign students. Their comfort and facilities are better than dorms, but they also are more expensive and you need to book them in advance – although the booking process is definitely easier than if you rented a regular private room or flat from a local. Always be cautious when sending money to these facilities in advance – below, we recommend one of them which we know is good and trustworthy and ARCHIP uses it for student exchanges.

ARCHIP has been in a long-term partnership with the Zeitraum Student Housing which has several locations around Prague. They offer newly refurbished modern facilities where the staff speaks English and you live in a community with other international students.

OPTION 3: PRIVATE RENTED ACCOMMODATION.
Approximate price: EUR 300–500 / month.
Want to live like a local? Try renting a private apartment or move in with other students. The prices are going up pretty fast but there are still student flats that promise a lot of fun and a chill vibe for as low as EUR 300 per month. Again, be very cautious when sending deposit or rent to someone (a landlord or a fellow flatmate) before meeting them. Even though the public transport network is great in Prague, we would still recommend staying in the broader center (e.g. Karlín, Žižkov, Vinohrady, Nové město, Smíchov, Malá strana, Vyšehrad, Podolí, Nusle and more).

It is common that you pay a deposit before you move in (usually one month's rent, sometimes double). The rent is usually paid monthly and it sometimes does not include fees for amenities (e.g. the electricity, internet connection, water and more), depending on your landlord.

When searching for accommodation, we recommend consulting the following sites and services:  Student Room Flat, Spolubydlící,  Expats Real Estate, Happyhouse Rentals, Casamundo CZ. Expat, international and Erasmus Facebook groups may be a great source of information and offers as well.

If you are a non-EU citizen, you may need a proof of accommodation for your visa. You can find the form attached below so that if the facility does not provide the confirmation automatically (some dorms as well as student housing facilities send it directly to the embassy using an official data storage), you can ask them to fill it out for you. This may be tricky and take longer with a private rented accommodation.
As a condition of enrolment, all students are obliged to furnish a proof of medical insurance (also a condition in the Agreement on Study), which covers all costs in the event of sickness, treatment and hospitalisation. In case you have troubles with the isurance search, feel free to contact us or our partner Foreigners.cz  that provides several services in order to facilitate your moving to the Czech Republic.

We also cooperate with VZP insurance company (pvzp.cz) which provides our students with comprehensive insurance for foreigners with coverage as high as if they were Czech citizens. This insurance also covers rare cases like unexpected pregnancy, stomatology and also partly covers other non-basic medical examinations. Our students have a 10% discount – either note that you're an ARCHIP student in your application or ask us for a special link at info@archip.eu. 
Prague and the Czech Republic in general have a very high standards of healthcare and the majority of common examinations and treatments are covered by your medical insurance. The doctors at most of the state medical facilities speak English but nurses may sometimes only speak Czech. If you're in need of an ambulatory care in a regular state hospital, the easiest way is to take a Czech friend with you.

RMA Centrum  (Dukelských hrdinů 17, Prague 7)   is the most common basic healthcare provider for ARCHIP students. They offer services of a general practitioner as well as specialized doctors and physicians. In case of a serious medical condition, we recommend English-speaking medical facilities, e.g. the Canadian Medical Centre (with different facilities at Prague 4, 5 and 6) or Na Homolce state hospital (Roentgenova 2, Prague 5). 

It's not hard to come across a pharmacy in Prague and most of the medical facilities have their own pharmacy in the same building. However, not all of them are open 24/7 so if there's a night emergency, make sure to check the closest one to you via Google Maps. Czech pharmacies sell all sorts of common prescription and non-prescription drugs – note that their names may vary from what you're used to at home. In this case, Google helps as well.
Prague and the Czech Republic boast one of the best and most affordable public transport systems in the world. The buses and trains usually arrive on time, they get you basically anywhere and sometimes it's even quicker (and definitely cheaper) than with a car. Prague's also a great starting point if you'd like to explore our country or even Europe thanks to its central geographical location. Read more about perks of Prague's public transport and options for travellers below:

TRAVEL WITHIN PRAGUE. Prague's efficient and extensive public transport system was ranked 5th in the world recently by Sustainable Cities Mobility Index. The city centre is mostly operated by trams and the further you get from the centre, the more buses you encounter. We also have 3 metro lines (see the diagram below) which are a quick way to get accross longer distances and a pleasant shelter from the heat in the summer.

OUT AT NIGHT? Prague has a fully functional night tram / night bus network. The trams meet at Lazarská stop in the city centre every half an hour (from 12:30 am till about 4:30 am) so everyone can change to the one they need. Night trams are usually safe and sometimes even have police officers to take care of everyone's safety. Click the map for high definition picture.
THE PRICING OF THE PUBLIC TRANSPORT is very reasonable. A 30-minute ticket is 30 Kč (EUR 1,25) and you can buy it in local cornershops or via text message. Locals use Lítačka, a smart card with an unlimited monthly, quarterly or yearly public transport ticket – student prices are very friendly: 260 Kč (EUR 10) per month. Make sure to have a valid ticket or valid card. The checks are common and fines start at EUR 35.

USE APPS to navigate through Prague with public transport. PID Info is the easiest and most reliable app to use. See our list of apps to use in Prague to know more.

ARE YOU AN EAGER DRIVER? We don't recommend daily driving in Prague. Traffic jams are common and public transport is usually faster. What's more, most of the neighborhoods in the broader city centre only have residential parking or you have to pay for parking. If we haven't convinced you, then we recommend the Parkování app to help you with parking fees and locations.

TAXI DRIVERS in Prague have a bad reputation. If you need a taxi, order through an app (e.g. Liftago) or through a phone dispatch. Never hail a taxi on the street. Uber and  Taxify work in Prague and their prices are very reasonable too.

TRAVEL WITHIN THE CZECH REPUBLIC. Our country may be small but it offers all sorts of natural sceneries and sights showcasing the history of Czech lands which spans over 1000 years. Czechs are enthusiastic hikers, tourists and sportsmen  – hikers enjoy the omnipresent hiking markers system  (invented by Czechs)  and kilometres of natural trails while bikers make use of the vast cycling infrastructure in some of the regions. If you feel like experiencing a traditional Czech daytrip, you may go canoeing or bathing in a stone quarry in the summer, mushroom-picking in the fall or cross-country skiing in the winter.

WANT TO SEE THE COUNTRY BUT DON'T KNOW WHERE TO START? Krkonoše, Šumava, Podyjí or Českosaské Švýcarsko are some favourite natural destinations while  Český Krumlov, Hluboká or Kuks may be good picks for sites of cultural heritage. There are also other cities worth seeing such as Brno or Karlovy Vary. If you wanna do something less touristy and just want to get a scenic stroll outside of Prague, see the Kudy z nudy website which has some great tips for daytrips. Similarly, mapy.cz app is a great source of suggestions (see our suggested apps here).

PUBLIC TRANSPORT is also reliable when it comes to rural regions of the Czech Republic. The train network is dense and the trains operate quite frequently. Their standard has gone up rapidly over the past few years so you may even enjoy wifi or electricity sockets on board. Bus networks are private and decentralized and their quality depends on the region but they are overall also good and safe to use. For schedules nation-wide, check the IDOS website. If traveling to a touristy place (e.g. Český Krumlov or Brno), there are also Regiojet buses which offer a great comfort on board and are a friendlier and more pleasant equivalent of Flixbus.
TRAVEL WITHIN EUROPE. Thanks to its amazing geographical location, Prague is an ideal base for getting to know Europe. Boasting one of the biggest airports east of Berlin and sitting on a railway crossroads between the East and the West, and the North and the South, you can get basically anywhere matter of a few hours. Even though Prague is situated in the middle of Bohemia, borders are not too far and you can get to Germany in about 2 hours and same goes for Poland and Austria. What are you waiting for? Go and explore!

INTERNATIONAL TRAINS operate from Prague Main Railway Station (Hlavní nádraží or Praha hl.n.) and depending on your direction of travel also from minor stations such as Praha-Holešovice or Praha-Smíchov. Trains are generally more comfy and more expensive than buses if traveling abroad. Popular train destinations from Prague include Berlin (4h), Munich (4h45) and Dresden (2h) in Germany, Vienna (4h) and Linz (4h) in Austria, Bratislava (4h) in Slovakia, or  Budapest (7–9h) in Hungary.

INTERNATIONAL BUSES operate from Prague Main Bus Station at Florenc and occasionally also from other minor stops such as Na Knížecí or Praha-Hostivař. Destinations for buses are much more broad than for trains and buses are usually cheaper than trains. Three major bus companies operate from Prague:  Flixbus, Eurolines and  Regiojet – a Czech international bus company with signature yellow buses which we would recommend for the biggest comfort and highest level of service on board). With buses, you can go to all major German, Polish, Austrian or Hungarian cities as well as further destinations such as Amsterdam, Copenhagen or even Venice. In the summer, it's also common for a lot of Czechs to take Jadran Expres buses to Croatia to enjoy the summer there.

PREFER FLYING? Even if you're on a budget, with Ryanair, Easyjet, Eurowings and other low budget airlines, you can explore Europe without having to spend hours on the road. All of these operate a number of flights from Prague and if they don't, there's nothing easier than taking a bus to Berlin or train to Munich and fly from there. There are also flight routes operated from Prague to destinations further away (e.g. USA, South America or South East Asia). Václav Havel Airport Prague is close to the city centre and you can take public transport buses to get there fast.