"Environmental, social and technological changes have always been a source for design innovation in architecture. Today, technological innovation across multiple disciplines suggests that architectural design is no longer limited to the distribution of program, but instead becomes an intense process of materialisation of the physical. On the other hand, social and environmental crises are encouraging us to rethink the potential and the role of today's architects and designers. The studio course focuses on architectural design across various scales and draws particular attention to the problems of materiality and materialisation. The focus on behaviour and performance as well as form and program changes our approach to architecture. New social and environmental challenges require architectural production to be multifaceted and complex. The understanding of the context and inspiration of the local technological tradition; as well as thinking in global terms; and adaptation to innovative technologies are applied to various scales of architectural design from the concept design to the details and tectonics."
Shota Tsikoliya has been an Architectural Design studio leader since summer 2020 and Future Cities studio lecturer teaching the Future Cities (Science, Engineering, and Technology) Workshop since 2014.
Shota is an architect and PhD from the Academy of Arts Architecture and Design in Prague (UMPRUM). The focus of his doctoral research was computational design and emergent architecture. He holds a position of assistant professor at UMPRUM in the studio Architecture III.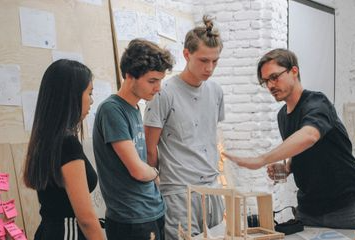 Ondřej Janků has been an Architectural Design studio assistant since summer 2020.
Ondřej is a practicing architect and co-founder of COLLARCH – architecture and design platform in Prague. He gained his professional experience in Switzerland where he worked for Herzog and de Meuron and in Denmark at Bjarke Ingels Group. He graduated from Academy of Arts Architecture and Design in Prague and additionally from Strelka Institute in Moscow.